European Champions Cup 2016: Historic win for L&D Amsterdam Pirates
The unthinkable happened. L&D Amsterdam Pirates won the European Champions Cup. Unthinkable? Well, at least before the tournament started. 
In the final, in which the score went back and forth, the Amsterdam team had the longest breath in the end. 
For three innings the game was scoreless but in the fourth, current Italian champion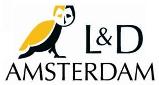 A.S.D. Rimini Pirates got on the board first when Kevin Heijstek allowed back-to-back singles to Ennio Retrosi and Jose Flores. Then Daniel Mayora doubled to left field to drive in Retrosi. With Rimini still threatening, L&D Amsterdam Pirates recorded the final two outs by throwing out by throwing out Jose Flores at home plate and by striking out Luis Serafin de Camargo.
More to read at the Dutch Baseball Hangout