Daily Archives:
June 5, 2016
Still widely remembered as the finest center fielder to ever play baseball, Tris Speaker was as dangerous a hitter as he was a fielder. Inducted in the Baseball Hall of Fame on their second-ever ballot in 1937, he nearly missed seeing that tremendous honor because of a near-fatal flower box accident he suffered that year.
You all may have noticed by now that L&D Amsterdam Pirates won the European Champions Cup by beating A.S.D. Rimini Pirates in extra innings. But was this a surprising win? Even though Curacao Neptunus won the cup last year, Italian club baseball was dominant in Europe over the past eight years. Since 1996, Neptunus from Rotterdam was the only Dutch team that won the European Cup (six times of which five in a row from 2000 through 2004).
When you look to the season so far, L&D Amsterdam Pirates was the dominant team in the Dutch Hoofdklasse next to Curacao Neptunus. Both teams battled for first place in the final weekend of the first half of the season and Neptunus won two of the three game series to take a temporary lead since the second game of that series was suspended. The two wins of Neptunus were with the slimmest possible margins of one run. So the Rotterdam based team wasn't flat out dominant in the meeting vs Pirates, but still they showed who was the strongest of the two.
More on the Dutch Baseball Hangout
The unthinkable happened. L&D Amsterdam Pirates won the European Champions Cup. Unthinkable? Well, at least before the tournament started. 
In the final, in which the score went back and forth, the Amsterdam team had the longest breath in the end. 
For three innings the game was scoreless but in the fourth, current Italian champion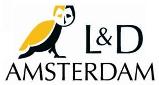 A.S.D. Rimini Pirates got on the board first when Kevin Heijstek allowed back-to-back singles to Ennio Retrosi and Jose Flores. Then Daniel Mayora doubled to left field to drive in Retrosi. With Rimini still threatening, L&D Amsterdam Pirates recorded the final two outs by throwing out by throwing out Jose Flores at home plate and by striking out Luis Serafin de Camargo.
More to read at the Dutch Baseball Hangout